2016 Collusion Between Trump and Clinton Confirmed
8.2.16 - Matilda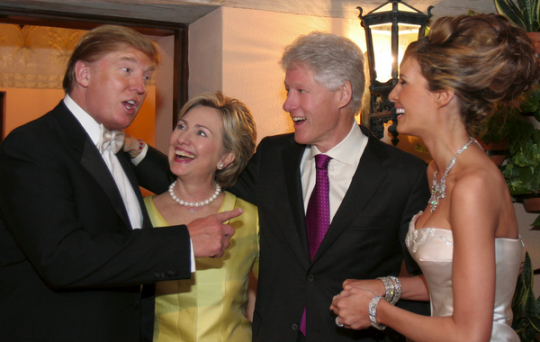 WASHINGTON, DC AUGUST 2, 2016 - An exclusive, credible source has just revealed that Bill and Hillary Clinton, and Donald and Melania Trump were all spotted entering the back entrance of a K Street office building at around 11:30 last night. While such activity seems to contradict the public schedules of both candidates and their spouses, the informant assured us that there was video proof that all four were engaged in a secret meeting.
Upon gaining access to the building, the informant - who naturally wishes to remain anonymous - said that the foursome appeared not only civil to each other, but downright affable.
"They were all laughing," our source revealed. "Terms like 'pulling the wool over America's eyes', and 'coup of the century' were bandied about."
After evading the building's security, the informant located Donald, Melania, Hillary, and Bill in a posh boardroom sipping champagne, devouring caviar, and hatching plans to divide and conquer the country.
"It's so funny that anyone who accuses us of conspiring together is written off as a nutjob," said Donald.
"They really think we hate each other now!" replied Hillary. "It's all I can do to keep a straight face whenever I start going on about you being unfit."
"You know I love ya, Hillary," Trump replied with a grin.
"Long live the oligarchy!" Bill cheered, raising a glass.
The informant reports that the group detailed their plans for the winning candidate - whomever that may end up being - to institute martial law as soon as possible for maximum profit.
Hillary expressed concern of their plan failing, however. "As long as we keep those four rock bands in check, we can pull this off."
"Not to worry," Trump intoned smugly. "They will never play the same show together, so we're safe."
Our source almost gave away their position with a startled gasp when Melania said the following: "But, what about the Richmond show?"
"What are you talking about, sweety?" Donald said quizzically.
"Don't you know?" she replied, turning to the other three concerned faces in the room.
"Green Jellö is headlining, with local support from Graveside Breakfast, Gritter, and Paint Store! They are all playing in Richmond at the Canal Club on August 17th!"
"It's too late to stop them now," Bill said hopelessly.
"A drone strike would be too conspicuous," Hillary mused.
"We just have to hope nobody shows up!" Donald declared.
At this, our source decided not to overstay their welcome and left the building before being discovered. We are still working to verify our informant's statements and any updates will be posted here ASAP.
Graveside Breakfast Responds to Bush/Clinton Anti-Grimdark Comments
4.1.15 - Dave
RICHMOND, VA APRIL 1, 2015 - In a startling display of non-partisan unity, both Democratic and Republican presidential hopefuls Jeb Bush and Hillary Clinton have recently made statements suggesting a less-than-favorable stance on the issue of grimdark and grimdark-related items. While this message seems to have resonated with both evangelical and secular voters alike, the singer, songwriter, front man, and self-proclaimed "Grimdark Lord", dolst of the Richmond-based grimdark band Graveside Breakfast is outraged.
"This is clearly a case of typical political pandering to gain votes," dolst said from his Henrico, VA home recording studio known as "The Time Dungeon".
"This cadre of cookie-cutter candidates are catering to a crusty and cowardly common denominator," he continued, "and it's a silly, sad, sick attempt to slight and slander us as well as our fans." When asked about alleged ties to the occult, Satanism, hate groups, or Scientology, dolst elaborated, "This is nothing new. Haters have always accused people like us of worshipping the devil simply because of our grimdark aesthetic, but nothing could be further from the truth! We enjoy the dark side of things, but 'dark' is not the same as 'evil'. We can't speak for other bands or artists, but we are not about evil. In fact, just last October we put on a benefit show for our local food bank. If we're as evil as Bush and Clinton seem to think we are, would we really be trying to help fight hunger?"
When asked about the mobs of women - as well as some men - who had been offering themselves to him, dolst simply pulled his wife (and Graveside Breakfast drummer) dExtrosien closer and replied, "They just want what they can't have. They know I make the most beautiful of grimdark noise and melodies with my soulmate here, so they're jealous."
"Yeah, but who can blame them?" dExtrosien added. "He's pretty much perfect."
The term "grimdark" has been in use for some time in certain circles. Some members of various fandoms (Warhammer 40,000, Homestuck, My Little Pony) have accused Graveside Breakfast of committing cultural appropriation by claiming "grimdark" as their own word and redefining to fit their own ends. When this was brought up, dolst abruptly ended the interview.
The band is also known for carrying around a human skeleton named Rattler who accompanies them to many of their shows. Rattler declined to comment on the controversy.
Germanwings Flight Shot Down - BY LAZERS!!!
3.25.15 - Matilda
So, are you thinking the sad fate of Germanwings Flight 4U 9525 was some kind of accident? Terrorism maybe? Well have I got news for you, sheeple! Your reptilian overlords have fooled you once again! According to this article on the European Union Times website, it's worse than you think.
See, it was actually a failed US military laser test. Yep, you read that right. The Germanwings plane was shot down by an evil US laser cannon. But don't tell the Illuminati that we made you aware of that. (You ARE protecting your cranium with aluminum foil, right?!)
Mechabiozoid on the Mend!
1.24.15 - Dave
So I am pretty psyched about mechabiozoid.com being on its way back up. Major components of the site are still down (store, etc) and the contact form should be working soon.